Copyright © 2003 By Kenneth L. Sturgill
No part of this document can be used or copied without expressed written consent from Kenneth L. Sturgill.



APO 668 C/O Postmaster
New York, N.Y.
- SUBJECT -
Notes and experiences of the
North African Campaign.
________
From the Invasion of French Morocco to
the Victory of North Africa
To
Sister and Family
PART I
Preparation

From October 1 ---- to October 23, 1942
At approximately the former above date we left the paradise of Camp [censored] to move by train to [censored], and there the work began. Gathering clothing and equipment, turning it in, requisitioning it again. Everything a madhouse. Average work hours ran from 18 to 20 daily.
Everyone was making crates, packing equipment and supplies, measuring boxes and moving them to the train to be transfered [sic] to the ship. Each and every crate was numbered and marked, with exact dimensions and weight.
On October 22nd we gathered up our remaining belongings and loaded on a rattle-trap army transport at [censored], destination unknown. This was to be the last of the good old States we were to see for a while. Quite a while. Each man had his own ideas as to our destination. Some were lucky enough to have been camped near their homes the last few weeks; but I am not one of those lucky guys, it has been four long months since I have seen my folks or friends. And I thought that awful!
PART II
Boat Ride
From October 23 - November8, 1942
We sailed from the harbor of [censored] October 23, and as I watched the ships gather from all points I felt better; I knew nothing of a big convoy, but this certainly satisfied me.
I was lucky during my boat ride in that I did not feel sea-sick during the entire ride. It was amusing to watch the boys hang around with such a sick look on their faces. I was particularly interested in the case of the supply corporal, Cecil Phillips. I would laugh at him and he would laugh back, but it was not at all funny. He was a very lad.
One of the bad points was sweating out the chow line; one started in about six a. m. and ws lucky to be finished with mess by ten. To pass the time I read books, wrote lots of nice long letters and did a lot of thinking.
After a few days out we were told the situation and what to expect. It didn't seem so bad. There seemed to be possibilities that we could land without resistance. We all hoped so, for the thought of having good firm ground under us again was very incouraging [sic]. Every detail was planned.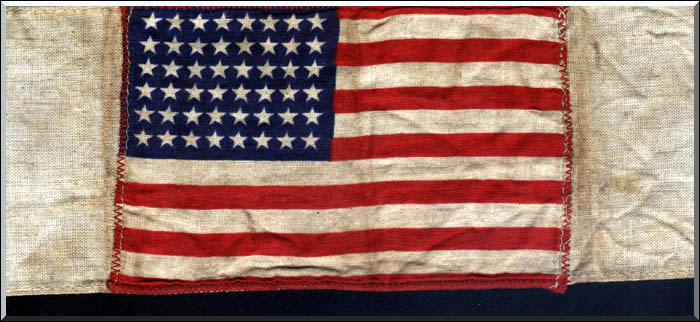 U. S. Flag Armband brought back by Elmer Sturgill (back side below)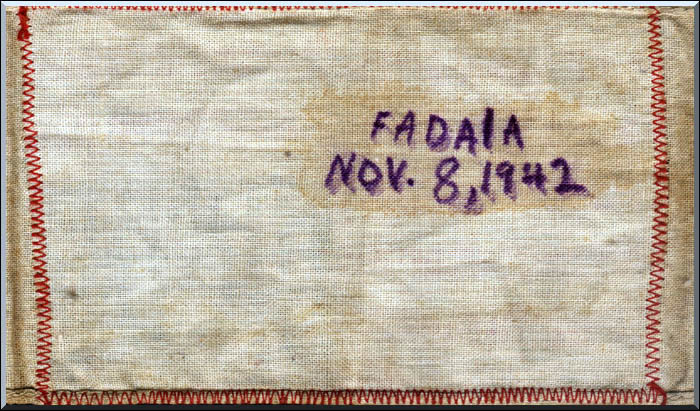 PART III
Invasion
From November 8 - November 13, 1942
On the night preceeding [sic] November 8, up all night and full of coffee and good eats, we were ready to go. That morning we heard the battleships blasting away at the docks and we knew that all had not gone as we had hoped. This went on all day, meanwhile troops were reported landing - not without casualties, however. While the shelling continued all night, we got what sleep we could.
Early November 9th we were prepared to land. Each platoon leader had his orders. While we were waiting until our time to go over - which seemed ages -- we watched huge oil tanks go up in flame near Fadela. Our boys were doing okay. Finally, at 9:00 am. We clammered [sic] down the rope ladders to the assault boats. Bombers passed over and I saw anti-aircraft guns in action for my first time out of the movies, but the planes were out of range. We were all anxious to feel Mother Earth under us - even thought it was Africa. Some members remained on the boat to help manage our supplies.
Just before we reached shore seven more [enemy] bombers were seen coming over the horizon to follow the coast line dropping bombs on the landing parties. We could not tell from our position if the bombs scored any hits, but things did not seem so good - I thought of a lot of places I would rather bee. Anyway the bombers were chased off by three of our fighters and we started again. The waves began to mount higher, so I puffed away on my life belt. All set now. Then a big wave shook us up, lifting the boat high and sending spray fifteen of twenty feet above our heads. Then I took stock of the situation. I knew the next break would be gigantic, so I looked to my equipment and got scared. First was my pack and cartridge belt heavily laden with ammunition, K-rations, etc., etc. Then came my gas mask - all buckled up! When I started trying to figure out a way to get all that stuff unfastened or cut off - it would have carried a mule down - the boat was caught a little off angle, began the plunge that made me five years older to date. A heavy timber knocked my feet from under me, and I fell to the bottom of the boat. As I lay there and watched the spray mounting high and the boat turning over on me, the things that I had done and was not so proud of failed to flash before me - I was wondering what the devil I was going to do next. I knew I could hold my breath long enough to cut through all the web equipment with my trench knife. Then all at once it was over. The spray passed on and the boat, by some miracle, straightened up! I had the devil scared out of me, was a little wet, and that was all. I didn't even take time to reproach myself for lack of bravery; I was sweating out the next break. It is altogether two different things to be frightened on the front and being caught helpless in an assault boat thus. But the next break proved to be okay, the worse was gone, so we looked to the landing. We jumped out and started across the sand (and the feeling was superb), and some were so excited that they carried their life belts in their plight. In passing we observed casualties of the latter coastal bombing, and some were covered with blankets. The company went ahead to Fadela while a part of the kitchen crew, the supply corporal and I remained behind to see that our supplies were landed and taken care of. There were seven of us in all, so we looked around for protection and fortified ourselves with a .30 Cal., machine gun and plenty of ammunition from one of the wrecked assault boats, one keg of fresh water, oil, and plenty of C-rations. We did not know what might happen next, so we dug a big fox-hole and after mounting the machine-gun we had a good position.
Going back to the beach we looked across our landing and it was a complete mass of wreckage. New boats, motors, jeeps, caterpillars, guns, and numerous items wrecked and sinking in the sand. All around were Arab huts and in those we took some interest, they were not at all like we expected. Some were constructed of straw and mud, while others had pieces of tin, boards, or anything that might offer shelter. Constantly they were approaching and shaking hands - their way of asking for cigarettes. We gave them almost all we had before we learned th ignore them.
We divided our party in two groups, one to watch the landing while the other rested. While sitting there watching the Arabs carry off life belts and jackets and awaiting developments I saw a dark slim aircraft fighter plane circling at a low altitude and coming our way - fast! I knew it was not one of our planes and it was not approaching in a friendly manner. I jumped in the hole and kissed Mother Earth while it passed within forty or fifty yards of us, and as the plane went by we were swept with machine-gun fire. The machine-gun we had mounted proved unserviceable, firing one or two rounds and jamming. We will never know if the plane escaped or not, but he unlimbered when the gun crew from the ships spotted him and woke him up. We didn't see him again.
Then and there I wanted me a good "individual" fox hole, so I went to work. I dug a good one. When I had finished and stood back to wipe prespiration [sic] and gloat over my achievement I saw a runner from the company approaching us. He carried is the glad tidings that we would leave immediately for Fadela to join the company, the harbor was open and our supplies would be unloaded there. He further informed us that it was a five mile hike - at this sun-down hour - with full field pack! I looked back at my abode with a different feeling.
When we reached Fadela we were all tired and hungry. They had captured some Germans hand grenades (the army called them "Potato Mashers") and they were something of interest to us as we had never seen the actual product. After eating we prepared for sleep, and it was cold and rainy. I used the ground for a bed, may pack for a pillow and my fiend jacket for cover, and went to sleep. The rain later woke me and I opened a protective cover to ward off the rain. I still got wet and was forced to get up and walk the rest of the night out in the downpour. Of African rain.
The next day the company went to work getting the ships unloaded. The small harbor could not accommidate [sic] the large vessels so the equipment was carried over in assault boats, or any kind boat that could carry anything. One French fishing boat was employed.
On the night of March 12th we stood on the shore and observed a submarine tragedy. Our men who remained on the boat were still out there. The next morning they all came in, okay, and with a big story. They informed us how it feels to be on the fourth deck of a ship in a hurry; how it feels to swim in oily water for an hour or two. We already had our ideas of how it was to be without clothing and company equipment. And all my precious letters went down too; all tied up with a pretty red ribbon!
On November 13th we left by train for Casablanca.
PART IV
Casablanca
From November 13, 1942 to March 16th, 1943
All of us were surprised to find such a modern city upon arriving at Casablanca. It is a very interesting place with all the peculiar, ans it seems to us, construction of buildings. It is a beautiful place, surrounded by rolling hills, psalm [sic] trees, and small farms kept by Arabs.
I worked one night helping unload ships at the harbor, and I was amazed at the way the men handled the high explosive shells, dynamite, T.N.T., caps, bombs, and all the equipment. It was a horrible night with me; I had no gloves and soon my hands were solid blisters. A working gang, Company "D."
Soon we moved to the hippodrome, or race track, in th edge of town. Most of our work there was on the docks, a radio station was set up in Casablanca for the servicemen, and soon very good programs were broadcast. We only heard one original delayed broadcast from the "Hit Parade" just before we left. We were contented to spend the duration in Casablanca.
While there I ran into a Spaniard and he became a very good friend. He used the following languages throughout the day; English, Spanish, French, Italian, and Arabian. He took me to points if interest and showed me the town and told me the customs of the different nationalities. When I think of the good old U.S. with the standard languages throughout, united and strong, it gives me a grand feeling. One would be surprised to know what a great help one word of any foreign language can help him; it has to be experienced.
There was one and only one bombing raid on Casablanca, and I will never foget the beauty of the thousands of tracer bullets streaking through the air from numerous places. I saw four-motored bomber put on a stunt flying exhibition - and bombers do not fly stunts. Only one bomb fell near our vicinity; the entire endeavor proved unsuccessful.
There was plenty wine and champagne in Casablanca. Quite frequently I ate with friends, Angel Gallego and Jose Galleno, and they always served a feast, for now that the Germans were no longer about, food, although it was still scarce, was obtainable.
I thought the boys were joking when they said they had seen the President, and had been working on a bomb-proof shelter where they were. Later I found it to be a fact; they conferred in a hotel near by, but I didn't see the President during his entire stay.
I learned lots of the fighting from Jose, who got the news of the front lines fighting from the French and Spanish speaking radios. I also learned lots of the other armies.
I will never forget the Christmas dinner that was served to us, we had about everything. Even including liquors and French pastries and champaign. Liquor direct from the States!
I have a soft spot for old Casablanca, with the good wines and beautiful women. However I felt that I would not be satisfied until I had seen Bizerte.
PS: I also had the pleasure of seeing Martha Ray in a personal appearance while at Casablanca.
PART V
Across the Continent of North Africa
From March 16th to May 17, 1943
At the former above date we were prepared to leave by truck. All supplies were created and packed in the trucks, enough ammunition to give one the jitters, including anti-tank mines, hand grenades, and what have you. All set now - and I hated to leave old Casablanca not knowing where the destination might be.
I will relate the voyage across North Africa from sketches I wrote in my hand book. There is no front line news, only touching points of interest throughout the trip.
Left Casablanca March 16, 1943 - through Rabat, Fes, Oujda, Constantine, passed close to the Mediterain [sic] at several points, and to my delight, we crossed the heart of the Atlas Mountains. On sheer clifts [sic] part of the road was constructed, and from the heights one could look below to see the road the range and back five or six times; the rivers, streams, marshes, rocks and scattered vegetation was indeed a picture of interest.
From the mountains we passed into a semi-desert country, which was inhabited only by a few Arabs and their flocks. The small villages held nothing of interest, although some wine was available. People were not spoiled here, one pack of cigarettes was good for about half a gallon of wine. We were feeling okay most of the time.
En route we were linked with a British convoy and here we had the pleasure of inspecting the British equipment, studying the Englishman, and commenting on the odd looking vehicles. They were okay, the British.
On March 24th I walked to the top of a mountain range to set foot for the first time on the soil of Tunisia. We were at a point where the Germans once broke through Kaserine Pass. Scattered French, Spanish and Arabs lived about. The nights were indeed cold, and the huge clumsy camouflage nets always gave us plenty of agitation
March 28th we moved to semi-desert area to work on roads, the wind always blew at a high velocity, a very lonely place.
April 2nd continued winds, discovered a very interesting radio program, good swing music, and lots of German propaganda that we have had plenty of hearty laughs about. The German people must think the American soldier is plenty dumb! We were told that we were about 5000 ft., above sea level in that area.
April 3rd we were sent near the front to be held in reserve for three days - Gafsa. A panzer division (German) was expected to break through, or so we were told. After the movement there we went back to our former camp - and back to work; removing mines and repairing roads. While we were there I became appreciative of my job - supply sergeant. I do not like to fool with mines and demolition. We had quite a few casualties.
April 17th we moved near the front lines, east of Tarbarka. Planes sometimes swept our men with machine-gun fire. We had some casualties there. The location at this time was swell, we were located on a hill which protected us from the winds, and we had command of a good view from all sides. We were all glad to see some trees for a change.
May 1st we left Tabarka to go north-eastward around twenty or thirty kilometers (18-20 miles), which brought is near the front again. Big artillery guns were located all around - in action. Tanks were streaming by. One jeep load of Mps passed "guarding" a number of Italian prisoners, the latter of which wore ragged clothing and were in very poor condition. The country here was very rough. Booby traps were always dangerous everywhere. Here we were located approximately twenty-five miles from Bizerte.
May 4th we moved within ten miles of Mateur, which had just fallen and was bombed quite frequently. Those mines were always a menace. Many men picked up British, German, Italian rifles and such stuff and displayed them not without affection. My speciality was a pistol belt lined with .45 cartridges, held together by a German metallic machine-gun belt. Everywhere it is impressive of how well made is all the German equipment. With time and hard work it has been rendered to almost perfection.
At this date I had not seen a town which had not been evacuated and bombed since back about Oran time. There was no wine, no women, and no song - this was warfare. The big artillery would awake us frequently during the nights.
May 6th we observed artillery fire on a German position near Ferryville.
May 8th - Rain. Rain. Ferryville taken. Tunis and Bizerte expected today. It's very interesting to follow movements bu the short wave radio of the front in this sector.
On May 12th I finally had my reconnaissance. Here are the notes taken directly from my hand-book. "I saw: good wheat and oats fields, and harvest time is here; road covered with convoys, mostly traveling west; shell and bullet torn Mateur; dead animals everywhere; graves - British, American, German, French, and Italians; Arabs dwelling; convoys of Arabs with their flocks moving everywhere; French men and women trying to hitch hike their way about; and at last - Bizerte, Tunis, and Ferryville. Tunis looks fine, nice loking dames, very friendly. Completely satisfied with what I saw. Now I have been every inch of the way across North Africa. I am satisfied.
"There are plenty of vino sprouts everywhere."
So now, on this 17th day of May, as I sit here in the fading afternoon sun and complete this hasty review - which has turned out to be quite a narrative - of the North African Campaign, these thoughts run through my mind:
"I have not been home for exactly eleven months to date; I have dug fox holes across the entire stretch of 1,700 miles of North Africa, and glad to say that Providence has so decreed that I did not use a fox hole one single time; we all have learned quite a few things, some of the boys can personate to an absolute perfection the Arabian language and gestures; I have eaten type C and K rations until my stomach will digest anything from boisdarc apples to sodden shoe leather; and I can truthfully say that it has not been as bad as I expected. Some of the sights and experiences are priceless. It seems that this time every afternoon brings me one day closer to the time that I can say good-bye to the army and it's strict regulations. I do not resent it; it is just that I am anxious, as is everyone, to see the thing done and finished.
There is a large lake about a mile in front of me here, background by gigantic mountain peak. It is very picturesque, and I love to sit here and watch it change colors after the sun has passed beyond vision behind the range to my back. I watch the colored ruggedness and shadows with the green boarders fading into nothingness and see several visions. I see the downfall of Naziism and peace throughout the world. I see much in the rugged face of that clift [sic] through the haze of this product of America - Camel - as night comes on.
Then it is recalled to my thoughts that that very peak housed a German Infantry Battalion some ten or twelve days ago; and I come back to the present. I now see Flying Fortresses streaming overhead and, thinking of all the rumors I have heard, I wonder what the devil the future might hold for me.
* * * * * *
[Signed] Elmer Lee Sturgill
S/Sgt Elmer L. Sturgill
20th Engineer Combat Regiment
Supply Sergeant