Eugene Mead Caffey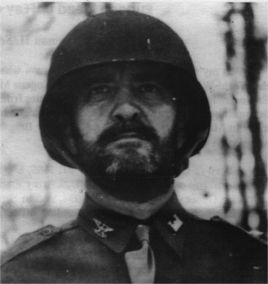 Commander, 20th Engineer Regiment, 1941-1943



Eugene Mead Caffey was born in Kirkwood, Georgia, on 21 December 1895, son of Lochlin Washington and Helen (Mead) Caffey. He was admitted to the U.S. Military Academy at West Point in 1914 and graduated 47th in his class on June 12, 1918, at which time he was commissioned as a Captain in the Corps of Engineers. On graduation day he was married to Catherine Frances Howell in the Cadet Chapel at West Point.

In 1926 he went to Chile as a member of the plebiscite commission charged with enforcing terms of an agreement between Chile and Peru. He served in the second Nicaragua campaign and served on the electoral commission appointed following a revolution in Nicaragua. In 1933 he received a law degree from the University of Virginia and then transferred to the Judge Advocate General's Department where his assignments included several as counsel for the Secretary of War.

As war broke out in Europe and the Far East, Caffey returned to the Corps of Engineers and was named executive officer of the 20th Engineer Combat Regiment. He became its commander shortly after Pearl Harbor was attacked. As regimental commander, Caffey was responsible for first training the 20th Engineers in the United States, then deploying them for the invasion of North Africa and combat against Germany's Afrika Korps. While regimental commander, Caffey was awarded the Silver Star, Legion of Merit, and Purple Heart.

Colonel Caffey's longest-lasting contribution to the 20th Engineers was the invention of the "wavy arrow" to represent the unit, first as a way of marking equipment for transit, then later to identify combat units.


---
---


At the end of the North Africa campaign, in May 1943, Caffey was transferred and made the commanding officer of the 1st Engineer Special Brigade. This highly specialized unit executed the most difficult beach assaults in both the European Theater (Sicily, Italy, Normandy) and Pacific Theater (Okinawa). On D-Day, at H-Hour on 6 June 1944, Colonel Caffey landed among the first waves of assault troops and was the first Army colonel to reach the beachhead. He later was Commander of the Utah District for five months in supplying the American army with food, munitions and medical care. While commanding the brigade, Caffey was awarded the Distinguised Service Cross, two Legions of Merit, and the Bronze Star.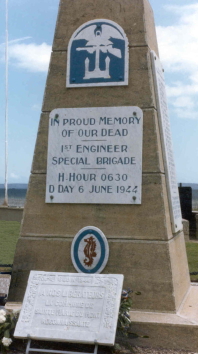 After the war, in 1948, Eugene Caffey returned to the Judge Advocate General Corps and was the Staff Judge Advocate of 3rd Army until 1953. Caffey was promoted to major general and served as Judge Advocate General for the United States Army from 1954 to his retirement on 31 December 1956. He and his wife Catherine then moved to Las Cruces, New Mexico, where he practiced law. He died in Las Cruces on 1 May 1961. Catherine died at Atlanta, Georgia on 16 December 1983. They are both buried at Las Cruces. Their children were: Eugene Mead, Catherine Howell, Lochlin Willis, Hester Washburn, Benjamin Franklin, Francis Gordon, Helen Mead, Mary Winn, and Thurlow Washburn.

Lochlin Willis Caffey also attended West Point and graduated in 1945. Like his father, Lochlin was commissioned in the Corps of Engineers and rose to the rank of Colonel.

Eugene Caffey's youngest son, Thurlow W. H. Caffey, provided the following reminiscence in May 2009 (NOTE: if you would like to correspond with Thurlow Caffey, please send an email to the 20thEngineers.com webmaster and we will forward it.)

We moved to Fort Benning from Arlington during the summer of 1938 as EMC1 was promoted to Major and became the JAG of the 4th Infantry Division. It is worth noting that graduates of the USMA 1918 were commissioned as 2nd Lieutenants, 1st Lieutenants, and Captains on the day of graduation. They were all reduced immediately when WW1 came to an end, and no one in the Class of 1918 advanced to permanent field grade rank until 1938.

In 1941 EMC was dispatched to Trinidad to assist with the legalities of securing land for an airbase, and we had to vacate our quarters on Miller Loop across from the elementary school. We moved to Atlanta where his parents and a younger sister resided.

When EMC1 returned to Fort Benning he did not return via Atlanta and we did not see him. In the summer of 1942 he sent for me and I was put on the train in Atlanta and went down to Columbus. He had me picked-up and I attended Retreat at the flag pole outside the HQ of the 20th that evening. That evening I slept on his cot at the BOQ and he slept on top of his sleeping bag on the floor.

The next morning I was admitted to the hospital and my appendix was removed the next day.He had not bothered to inform my mother of this plan. She came down the next day, and took me home 5 days later. She was annoyed, to say the least, that he had not fully informed her of what he had in mind.

General Caffey died in Las Cruces, New Mexico on 30 May 1961.

See the letter from a soldier in the 1st Engineer Special Brigade, Saul P. "Pete" Pryor, to get a feel for what it was like to serve in that unit.