The 20th Engineers at Camp Kilmer - The Brown Family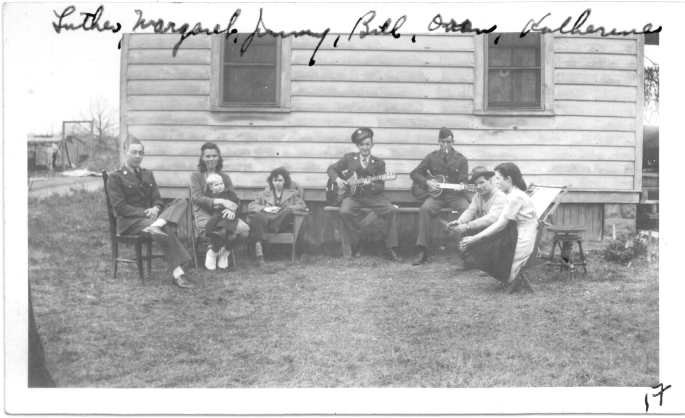 Outside the home of Maw, Paw, and Sally Brown



Camp Kilmer was carved from the raw farmers' fields of New Jersey in the early days of World War II. The 20th Engineers were one of many units passing through Camp Kilmer as the United States prepared for war. The 20th Engineers only spent a couple of months at Camp Kilmer, in the hot and humid summer of 1942. There was little to do outside of camp. Several of the soldiers discovered a wonderful family in North Stelton, New Jersey, who welcomed them as extended family. They became known as Maw and Paw Brown, and daughter Sally. Sally's cousin, Bill Giacalone, was also in the neighborhood; he was in the Navy. Following is a letter from Sally Brown, interspersed with photos from the scrapbook of Bill Giacalone, addressed to the 20th Engineer Association of World War II.


---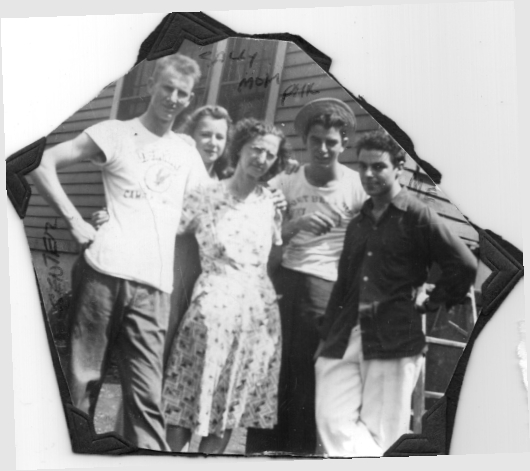 Daniel Senter, Sally Brown (author), Lena Giacalone (Bill's mother), Phil Ortega, Bill Giacalone



Although Elizabeth Cohen (widow of the 20th's chief medic, Dr. Max Cohen) and I have both been members of Congregation Beth Emek for many years, it was not until last Saturday evening that we discovered another connection. At a congregational life-cycle event, she mentioned to another guest, also a nurse, that she had served in the Army during the second world war and had met her late husband in Casablanca. I immediately asked if she had been at Camp Kilmer (which had been built on the former farmlands adjacent to my childhood community). When she said that she had, I followed with, "Did you ever hear of the 20th Engineers?" She looked at me in disbelief, replying that that had been her husband's unit and asked what my connection was to the 20th!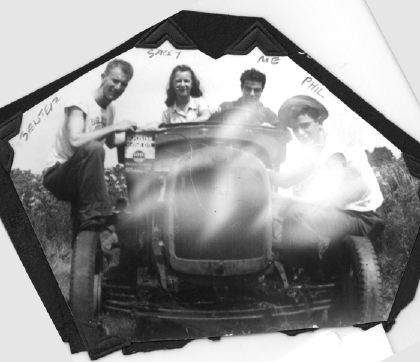 Daniel Senter, Sally Brown, Bill Giacalone, Phil Ortega



I explained that shortly after Camp Kilmer had opened, several soldiers, off duty and trudging up School Street on their way to a bus, had paused in front of our house where my father was sitting under the willow tree listening to Gabriel Heater's news broadcast. (He had strung an electrical cord to accommodate the radio and a light for reading outside in the evening.) "Daddy" invited them over. "Mommy" (who was to be dubbed "Maw") made the coffee. I don't remember if that particular group of GIs became the nucleus of soldiers who subsequently had their passes made out to "Maw Brown's place," or not, but our willow tree became a home away from home for many members of the 20th Engineers that summer.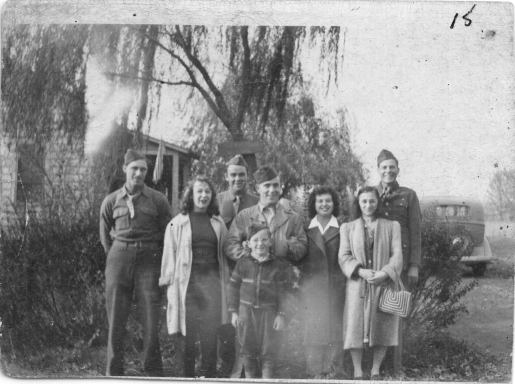 Outside the Home of Maw, Paw, and Sally Brown



Neighbors chipped in their rationing coupons for coffee and sugar; baked goodies, popcorn and peanuts appeared every evening. Around a small open fire (this was before blackout were enforced) guitars were strummed and tall tales exchanged. Some soldiers stopped by out of curiosity and then continued on their ways to the Nine O'Clock Club near Lake Nelson, to New Brunswick, Dunellen, or Plainfield where there were more sophisticated activities, but others were content to accept our humble hospitality. Some evenings the MP patrolling the area (Lt. Jill) would stop by and inform us that there would be an "alert" and later that evening requiring all visible GIs to return to camp, so we might want to move around to the back of the house. And then, late in the summer, he saw my Aunt at Ellie's Diner and advised here that we might want to walk the guys back to gage IV that night. They didn't say anything and we didn't say anything but we all knew that they'd be shipping out either that night or the next day. The 20th Engineers were gone.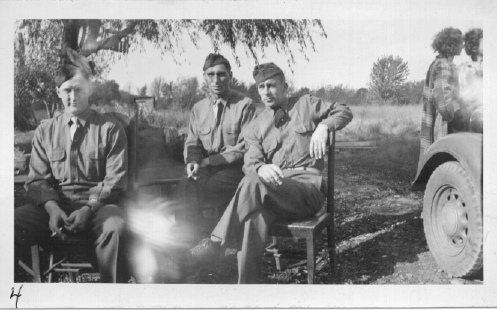 A week or so later we got mail from Camp Pickett with instructions about were to ship the guitars that had been left in our care. Autumn arrived, cooler evenings, so there was no-one under the willow tree inviting lonely GIs to stop in. Some of the MPs we knew continued to come in for a cup of coffee and some regular soldiers, too, but never did our community develop the closeness with any group from Kilmer that we had established with those kids form the 20th.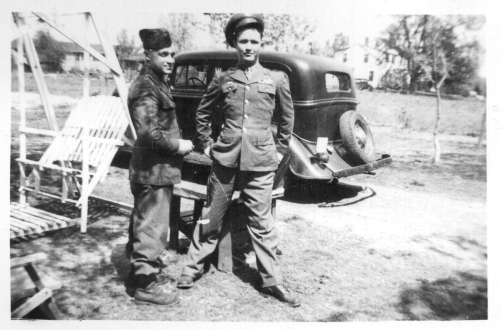 Then one evening there was a knock on the door and there was Danny Senter! He and several others had returned from Pickett! Immediate telephone calls brought many friends of the 20th to our tiny four room shack for a mini reunion.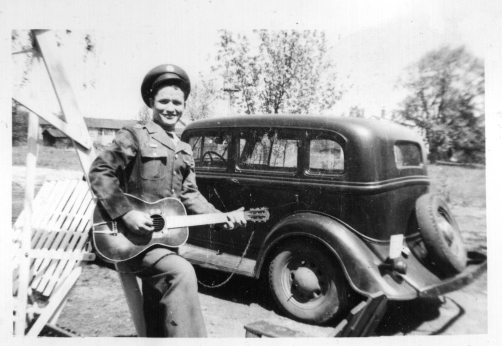 That winter I was in High School and had lots of homework, but that came AFTER I had written three or four V-mail letters each evening. (When I married in 1950 my husband had me burn those I had received along with the valentines I had saved from grade school.)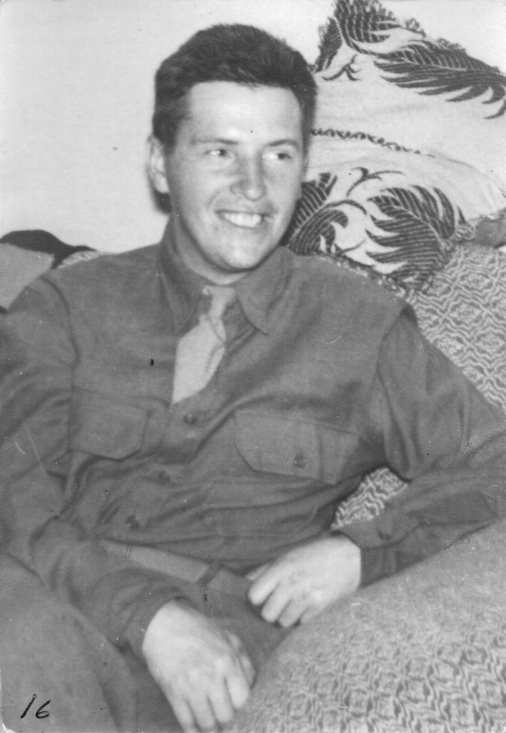 Perhaps it was only about 10 members of the 20th who corresponded regularly and we maintained contct with fewer than that after the war. Not all of their names appear on the listings tha Elizabeth's daughter, Dr. Stephanie Moses, so graciously copied for me, and those who do have no current addresses. But I'll share with you the names I remember. Our group did not remain together after the 20th was made part of a larger unit so maybe some of our boys were not considered part of the 20th when your roster was compiled. There are not in alphabetical order as they come form memory and some photos from my late mother.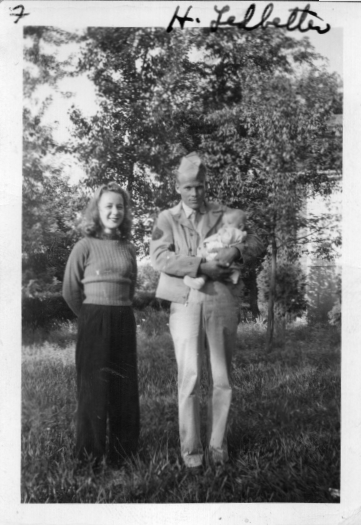 Sally Brown and Harvey Leadbetter



Arthur Blankenship
Art Brownrig
Alton E. Cross (wife, Alice, wrote several years ago that he was afflicted with Alzheimers) They were at 799 Fourth Ave., Berlin, NH 03570
Phillippe Custis Ortega (family from New Orleans. Letters from Sicily said that Phil had died in a train accident.)
Daniel Senter
Winford Murphy (we visited him in Halloran after the war but lost track after he returned back to his home)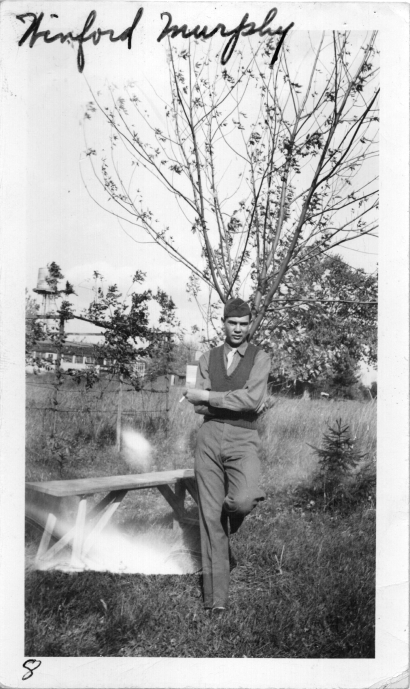 &nbsp &nbsp

Winford Murphy



Homer E. Pruitt
Johnny Whitfield (some letters from him and his wife in the 50s)
Harold Stubbs
Jimmy Smith
Frank Chacko
Harvey Leadbetter
John Polkoski
"Old Folks" (I don't know if we ever did know his name. I don't know if he could even write.)
Bill Griffin
Henry Nesbit Hagewood (just a name on the back of a photo. I don't remember him)
John Smith
________ Cook
________ Winecoff
Mike (?) Mulligan
Bob Yuron (maybe not from the 20th)
Fred Steigerwalt
Dan (?) Still
Claude Sexton
Horace Cribb

It's strange that after all these years I could recall that their commanding officer was the highly feared but much respected Colonel Caffee. Elizabeth asked if I had ever met him. Of course not. The soldiers we knew were mostly from small towns in the south who were more comfortable relaxing around our bonfire, confiding that their homes were much like ours, with limited indoor plumbing and an outhouse, than they would have been in the "big" nearby towns. The only officers I met were those I served the following summers when I worked at the Camp Service Clubs.








A few years ago when I first connected to the internet I looked for information about the 20th Engineers but found only some general WWII website. I sent them a small check in memory of "our" boys in the 20th. Although it is not likely that any of your current membership had knowledge of the love that a small group of Camp Kilmer neighbors had for the 20th Engineers, please accept this donation to your organization in memory of my parents: Maw and Paw Brown. We followed the war news and watched the newsreels in the movie theater hungry for more than the guarded information that the V-mails provided but knowing that the 20th was in the thick of it all.

I'm so grateful to have learned that the remnant of the 20th kept in contact. Most of the people from North Stelton who would be equally happy, are long gone but I am sharing the news with those still alive.

Thank you for your many sacrifices. We at home continue to appreciate your gift to this nation.

Sincerely,

Sally Brown