Colonel Truman H. Setliffe
Adjutant, 20th Engineer Regiment
Operations Officer, 20th Engineer Regiment
Commander, 1340th Engineer Battalion
Commander, 1171st Engineer Group
Commander, Philadelphia District, Corps of Engineers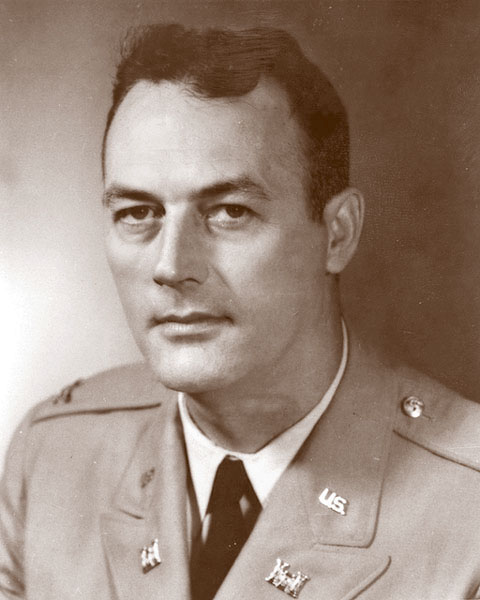 There are some people who truly enter "retirement," and then there are those for whom the term refers only to a change of pace and scenery.

Among that second group is Col. Truman H. Setliffe, who commanded the Philadelphia District from 1959 to 1963, kept working in the Delaware Valley for most of the next 19 years, and is still active in the workplace. He spoke with the Observer from his office in Tampa, Fla., during a recent phone conversation about his life and career.

"I entered 'full-time' retirement in 1995, but I still come in four mornings a week. I like keeping my hand in here at WHI," said Setliffe referring to Wagner-Hohns-Inglis, Inc., a national construction consulting firm with which he has been associated the past 24 years.

Setliffe is a native of Lynchburg, Tenn. (His birth raised the population made famous by the Jack Daniels distillery to 399.) When he was five his family moved to Fort Lauderdale, where he graduated from high school in 1937. He went on to college at Louisiana State University, where he earned a bachelor's in mechanical engineering.

Shortly after graduation and commissioning as a second lieutenant out of ROTC, Setliffe reported to his first assignment with the 20th Engineer Combat Regiment at Fort Benning, Ga., on Aug. 20, 1941.

Soon after the Dec. 7 attack on Pearl Harbor his regiment moved to Camp Blanding, Fla., to begin training for the European Theater. When the 20th made its first D-day landing in November 1942 at Casablanca, then Capt. Setliffe was the Regimental Adjutant. After an overland move to operations leading to Bizerte, Tunisia, he became the Operations Officer for another D-day landing at Licata, Sicily in July 1943, after which he was promoted to major.

In October 1943 the 20th Engineers sailed to England to help construct staging area camps for troops destined for landings in France. During this time they were reorganized into the 1171st Engineer Group, and the regiment's Second Battalion became the separate 1340th Engineer Combat Battalion, which Setliffe was appointed to command just one month after his 24th birthday.

On June 6, 1944, he took part in his third D-day landing — the D-day — as personnel of the 1340th landed at Omaha Beach as part of the First Army's V Corps. After five campaigns with V Corps the battalion was in Czechoslovakia when hostilities ended May 8, 1945. The battalions were demobilized and Setliffe, who had made lieutenant colonel in August 1944, became commander of the 1171st. The group headquarters was moved to Frankfurt, Germany to direct repair and rehabilitation of utilities and structures.

Upon returning to the states in 1946, Setliffe's first assignment was Ft. Leavenworth, Kan., where he attended the Army Command and General Staff College. From there he went to the University of Illinois to get his master's in civil engineering, after which he taught structural analysis and design for one year at West Point.

In May 1948 he married Dorothea (Dottie) Marchand, and the next month he received his first Corps district assignment as ... a recruit! (And in civilian clothes no less.)

"The Chief of Engineers at that time was a firm believer in on-the-job training — literally," explained Setliffe, who in June 1948 reported to Riverdale, N.D., to help build the largest rolled-fill earth dam in the world at that time.

"Construction of Garrison Dam, Phase I, was just getting underway when I arrived, so I got to wear many hats — soils lab technician, surveyor, inspector, shift boss, you name it. In essence it was a hands-on construction methods course involving many of the responsibilities of a district engineer."

One of the more challenging tasks Setliffe described was pouring concrete in 25-below-zero weather.

"The schedules for four tunnels and their downstream portals required winter work," he said. "We built a house over the portals, heated the aggregates and water, mixed them with cement, dumped the warm concrete into dump trucks, transported it 50 feet, backed under a tarp, then dumped the concrete into portal forms. Steam from a railroad engine provided both heat and moisture for curing the concrete."

His following three assignments all involved overseas operations either directly or indirectly, first as Chief of the Operations Section for the Army Engineer, Headquarters 5th Army in Chicago from 1950 to 1952, training troops bound for Korea.

From there he became Chief of the Construction Division and then Executive Officer for the Corps' Atlantic District in New York from 1952 to 1953, managing construction of airfields and warning stations in Labrador, Newfoundland, the Azores and Bermuda.

Then he was tabbed as Logistics Officer for the Military Assistance Advisory Group - Indochina from 1953 to 1955, conducting joint operations with the French in Vietnam a full decade before the United States became involved on a large scale.

Next came two-and-a-half years at the U.S. Army Engineer School at Fort Belvoir, as Chief, Missile Support Branch, which taught operation and maintenance of missile support equipment such as liquid oxygen generators, high-pressure air compressors and Nike missile platforms.

He assumed command of the Philadelphia District in July 1959, fresh out of the Army War College. "I found that Col. Bill Powers had assembled a top-notch staff of military and civil service professionals — more than 900 people for military and civil construction," he said.

Setliffe recalled, "My first priority upon arrival was, in the Chief of Engineers' words, to kick the Valley Report out of the barn," referring to what was formally known as the Report on the Comprehensive Survey of the Water Resources of the Delaware River Basin. This study, started in 1950, became the basis for all five of the district's dams and for the Delaware River Basin Commission.

"The district completed the report and pitched it to all four governors and state legislatures, and then to the Pentagon, after which it sailed through Congress in 1962," he said. "I must have made more than 100 presentations throughout the valley before it was all done, educating political and technical organizations and getting their feedback on the report's findings and recommendations."

Under Setliffe's watch three of those five dams — Prompton, Dyberry (Jadwin) and Bear Creek (F. E. Walter) — were formally dedicated.

One of the young engineers who worked for Col. Setliffe was Nick Barbieri, who would later become chief of the district's Engineering and Planning Division. He remembers him as the personification of "command presence."

"It was Col. Setliffe who taught me the art of public speaking," said Barbieri. "He related well to all manner of audiences, from school boards and borough councils to his own employees to members of Congress. He also had a way of seeing the big picture, of focusing on the key issues at hand.

"This was a commander who knew what was important and how to communicate that to others. And he expected the same of his own engineers and managers. He knew how to keep you on target."

Like many of his predecessors and successors, Setliffe made the Philadelphia District the last stop in his military journey.

He retired in 1963 to become president of the Philadelphia-based Liberty Corporation, a concrete and asphalt paving firm that had its own fleet for dredging sand and gravel from the Delaware River. He also became president of two civic organizations, the Ports of Philadelphia Maritime Society and the Delaware Valley Council.

In 1972 he left to take over a similar operation in the U.S. Virgin Islands and Antigua, then came back in 1974 to work for WHI at the firm's home office in Mt. Holly, N.J. He has been with them in varying capacities ever since, heading back to Florida for good when they set up a Tampa branch in 1982. In 1985 he stepped down as regional vice president, continuing as a full-time executive consultant (specializing in large claims analysis) until de facto retirement 10 years later.

Registered as a professional engineer in Delaware and New Jersey, Setliffe maintains active membership in the American Society of Civil Engineers, the American Arbitration Association and the Philadelphia Post of the Society of American Military Engineers (of which he is also a Fellow and past National Director).

Setliffe's wife Dottie passed away in 1986. His married daughter Cindy lives near his Tennessee birthplace, where she breeds and trains horses for competition.


Information courtesy of US Army Engineer District Philadelphia; last updated in 1998.